This past Sunday night, beneath the icy streets of Harlem, Ginny's Supper Club hosted "Le Vogue A La Mode Folie". It was part fashion show, showcasing fresh lines by Tyrell Collection, Ballantyne, Katrina Lankova and shoes by RebelSeven and part old-school, New York vogue ball, "Le Vogue A La Mode" celebrated Fashion Week in electric, genuine, uptown style.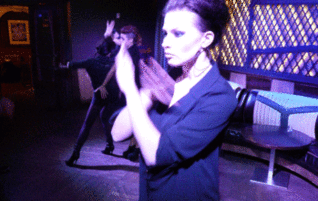 House DJ Ian Friday spun classic Disco, House and Dance Remixes during effortless runway shows by each designer, broken up by choreographed and impromptu vogue performances and battles.
Voguing, the highly stylized and eccentric dance practice had performers both in the air and flat on the ground, seemingly within seconds of each other. It was truly a visual feast.
Between chants and "Thank You's", the MC narrated the story of Voguing and The Ballroom Scene's foundations in Harlem: "It evolved back in the 1960's when African American drag queens started holding their own events in Harlem. Eventually the participants in these balls split into factions centered on influential and charismatic leaders." 
Ginny's event was an amazing and refreshing intersection of New York cultures in a time where large budget fashion shows keep most runway-watchers at Lincoln Center throughout the week and our only reference to voguing comes in the form of Madonna's hit video from 1990.
Check out a few photos from the evening below:
[carousel]